We love our customers and it shows.
Fantastic!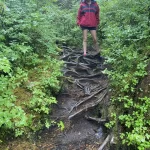 Thank you for such and amazing vacation. We enjoyed everyday of our stay. The food, excursions and scenery were fantastic. Would love to do it all over again!
Meredith, Hunter, Grace, Alexander & Caroline
Dynamite Duo
Bill and Chrystal…what a wonderful trip!!! It was the adventure of a lifetime for the four of us. We loved everything about this week and the wildlife delighted us! Chrystal's fantastic cooking kept us happy, full, and marveling how she could create such culinary deliciousness in a the galley of a boat. Bill's masterful captaining kept us on-course and successfully finding the most beautiful anchorages.
Thank you Bill and Chrystal for taking such good care of us – for inviting us into your home with such warm hospitality and custom tailoring our itinerary to perfection. You are a dynamite duo!!
With love & gratitude,
Cynthia, Erich, Devin and Annika
Amazing Vacation!
After I booked 6 nights, I began to have questions. Could we spend 6 nights in tight quarters with these two strangers and all get along? Could just the five of us (including 2 teen boys) all get along?? Would we get seasick? All my fears and apprehensiveness melted away as soon as we stepped foot on the boat and met Bill and Chrystal. From start to finish, Bill and Chrystal couldn't have been more gracious or accommodating.
Bill and Chrystal have a true gift of being able to read their guests. They truly want to please you and make this a trip of a lifetime. As I look to returning home, I know I will miss waking up on this amazing boat and being taken care of by Bill and Chrystal. We had an amazing vacation. Thank you with all of our hearts!!
What a blast!
Thank you for opening up your home to us and showing us this beautiful part of the world! The paddle boarding was a blast!! Thank you for your efforts and it was truly enjoyed and appreciated. The food was delicious and plentiful. Thank you for the hard work you put in on the boat. I am sue there were challenges, but we certainly did not see them Your generosity and hospitality provided a great example of boat life!
All the best,
Matt, Melanie & Katherine