Custom Alaskan Charters
The following itineraries are typical, but your cruise may be different. The vessel routes change due to the variances of weather or the spontaneous interests of guests. Anglers should note that this is not a dedicated fishing trip – unlike programs at Orvis-endorsed fishing lodges elsewhere. Guests may anticipate several fishing opportunities during the course of a cruise, but there will be some days when other activities such as whale-watching or brown bear viewing take center stage. We carry limited fishing gear, so serious anglers should bring their own. Shrimp and crab pots with bait is included. Guests must provide their own fishing license.
If bringing fish home with you after your charter is a priority, we can arrange a day trip with a commercial fishing boat that will furnish you with everything you need to have your fish packed, wrapped, labelled and frozen for your journey home or shipment. All your fish can be waiting for you when you return to Sitka at the end of your trip with this service. Keep our mother-shipping services in mind as well for self guided or other guided tours. So worth it!
7 Night Juneau to Sitka
To cover the most area and do the most you will want to do this package so you see nothing twice!
Trip can be Sitka – Juneau or Juneau – Sitka
•Day 1
•Depart for Tracy Arm-Fjords Terror Wilderness Voyage into Tracy or Endicott Arm, both spectacular fjords with waterfalls cascading from glacially carved walls. See the soaring Dawes or South Sawyer Glacier up close and take a cruise in a Zodiac for an unbeatable view among sculpted icebergs. Keep an eye out for harbor seals, harbor porpoises, and arctic terns. A fabulous kayak spot
•Day 2
•Frederick Sound and Admiralty Island
•These waters are prime areas for both orca and humpback whales. With luck, guests may observe their fascinating behavior—breaching, tail-slapping and variations on feeding—as we fill the deck and listen to the play-by-play from your expert crew. We will explore spectacular bays and inlets, following bear trails and salmon streams. Once ashore, we have the opportunity to walk along a quiet forest trail. The still waters are excellent for kayaking, offering another option for up-close exploration.
•Day 3
•Baronof Warm Spring & Southern Chatham Strait
•These waters are prime areas for both orca and humpback whales. A "Sea Lion Island" is a sure sight to see! Arriving to Baronof Warm Springs, you will walk along boardwalk and explore the tiny village and quiet forest trail up to the natural hot spring. The still waters are excellent for kayaking, offering another option for up-close exploration.
•Day 4
•Sandy Beach, Cosmos and Kelp Bay
•This is our best opportunity to see the Coastal Brown Bears feeding from multiple salmon runs throughout the summer season. Getting close to shore via tender, it is common to get as close as 50' to a feeding brown bear. The still waters are excellent for kayaking, offering another option for up-close viewing and exploration. Excellent crabbing and shrimping in this area for seafood feasts!
•Day 5
•Tenankee Hot Springs
•This is a shore experience to visit a tiny Alaskan Village that is friendly to visitors. A community hot spring and village amenities are up for a tour. The still waters are excellent for kayaking, offering another option for exploration for additional. Excellent crabbing and shrimping in this area for seafood feasts! Crab night is in order!
•Day 6
•Peril Straight and Surgius Narrows
• This day is mostly underway to position for crossing or staging to cross Surgius Narrows, a gut that can only be navigated at slack tide. In other words…..lets not go white water rafting to cross it in extreme currents. Seriously!
•Excellent calm waters for fishing, whale watching and kayaking. We fish as often as you want to!! Don't forget……you can take your catch home with you!
•Day 7
•Goddard Hot Spring/Last call Fishing
•This is that last day to get that catch you want to take home, or take a 1/2 day trip with a charter boat that will clean, vacu-pack, freeze and have it ready for your flight home. Additional charges will apply.
•Goddard Hot Spring is a local hot spot in a remote setting. Wonderful for a beach campfire and sundowners. Local fisherman frequently stop by!
Disembark in Sitka
•Options are available to stay on MV Bear Paw for an additional night to allow a day in town to wait for flights the following day. Additional charges apply
•Don't forget your fish boxes to take your fish home with you.
•Enjoy visiting Sitka!
•Check with your airline about your weight limits
•Don't forget about the hugs goodbye with your crew.
• Drop off before noon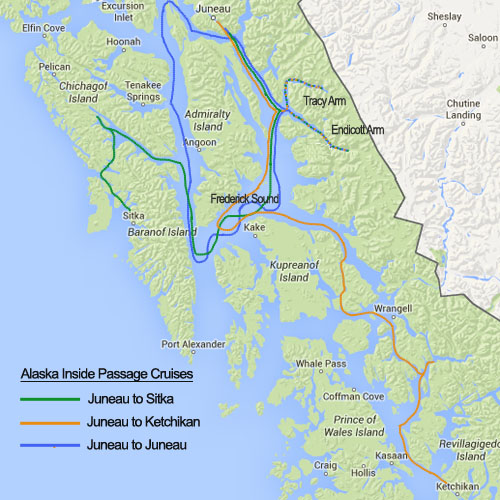 6-night Itinerary Sitka to Sitka
Peril Strait & Sergis Narrows
We depart Sitka Harbor at noon at a predetermined pick up point and head towards the swirly waters of Sergius Narrows. Finding overnight anchorage near or past the narrows is the goal as tide dictates when the vessel can pass. A rather thrilling passage with even a small amount of current. An evening social roundtable under the midnight sun around the upper deck firepit, is in order to get acquainted with the boat and meet your crew! Enjoy your first night relaxing and dialing in to your stateroom and the creatures of comfort available on board.
Day 2 We continue through placid Hoonah sound where humpback whales are plentiful and may find a pod of killer whales too! There are a few good halibut fishing banks we can try out for a while if you want to drop a line. We find anchorage at Eva Lake or Appleton Cove. Excellent fishing and Dungeness crabbing in this area. Join the crew in dropping crab pots, go jigging and to explore the shoreline. These are very protected areas to explore by kayak and watch for critters. You will likely find Sitka blacktail deer grazing above the tidelands and brown bears too. If we want to light a fire on the beach, this place is ideal and tranquil.
Day 3 We head southbound on Chatham Straight and head for the Baronof Warm Springs. After a short ride on the tender to the public dock, lots of boardwalk to explore in this mini community. A 20 minute hike to the natural hot springs is a rather rewarding payoff and experience to feel the rush of a raging waterfall that roars right next to the hot spring. For those who choose a gentler path, you can enjoy the tubs next to the public docks for a relaxing private experience. There is also an excellent opportunity for fly fishing, the upper lake boasts some nice sized cut throat.
Overnight anchorage will be either Red Bluff or Takatz Bay depending on the conditions in Chatham Straight. The most remote area is reached here so brown bear viewing, fishing, shrimping, and crabbing in these areas are best. Once anchored, guests can help the crew drop crab pots, go kayaking, drop in a line for Halibut or just relax around the firepit.
Day 4 Today's destination leads us to Tenakee Springs, another shore experience in a remote village of about 100 people, on the east side of Chichagof Island. The town features a bathhouse of 106 degree sulphur hot mineral spring for same sex public bathing only during a set schedule. Several large historic structures including Snyder Mercantile, community center, firehall, newly renovated seaplane dock and upgraded boat harbor are all to check out. A wonderful anchorage and the Dungeness Crab fishing is excellent.
Day 5 You can help the crew pull up Dungeness Crab pots or watch the skiff return with the overnight catch. This is the day where the vessel will aim to get closer to Serguis Narrows to get in to position for crossing the next day's slack tide to cross it. Watch for whale spouts as we cruise up Peril Strait and towards Hoonah Sound. The protected waters comprise the summer feeding grounds of more than 100 Humpback Whales and also support Orca (Killer) Whales, Dalls Porpoise, Stellar sea lion and a variety of sea birds. Chances of encountering Humpback and Orca Whales are high in this area and whale watching is likely to take up a large part of our day. At anchorage, we will snuggle up to our firepit on the upper deck to enjoy a cocktail under the midnight sun.
Day 6 Enjoy a cup of coffee and a leisurely stroll on deck after breakfast, while we cross the narrows to return to North Sound. More whale watching, sea otters, fishing, and kayaking. Dungeness crab and spotted prawn feasts are a sure thing with all that is caught by now! Any fish that guests have acquired should be getting packed up and vacuum sealed and ready to go out in a fish box for your flight or overnight shipments. The finale dinner will comprise of our chef's creations of our catch on charter. From the ocean to the table, this is our grand finale supper for all to enjoy. A slideshow of your charter experience will make lasting memories, reflecting on your Alaskan adventure.
Day 7 An early start with a family style breakfast underway to arrive at Sitka harbor for guest drop off on the dock. 10 am ETA to give ample time to catch shuttles to airport or alternate accommodations made by the guests. Hugs and farewell to our new friends!
A typical 7 night route from Sitka to Sitka is on this link:
Sample itinerary of 2-4 night charters Sitka to Sitka
Depart Sitka Day 1
Guests will board at noon at a predetermined slip number or will be tendered to the vessel in Sitka harbor from the guest loading/unloading dock. A light lunch will be provided once vessel is underway towards Goddard Hot Springs. This route finds exposure to the Gulf of Alaska and re-enters to inland waters to find anchorage. Lingering humpback whales, sea lions and multiple birds to look for along the way. Once anchored near Goddard Hot Springs, guest will enjoy a late afternoon or after dinner soak at the Hot Springs. With west facing views, under the midnight sun, brings spectacular colors for sundown while enjoying the firepit on the upper deck.
Day 2
After a scrumptious breakfast, vessel will head for North Sound. This protected area is perfect for water sports like kayaking, whale watching and fishing. Sea Otters are commonly seen floating around the kelp beds and rocky shoreline and watch for Brown Bear, Bald Eagles, Dapper Harlequin Ducks and Sitka Black-tailed deer on shore. The humpback whales often feed in this area too. With multiple protected anchorages, lots of exploring to do. Good cell service here as well. Take a soak in our intimate 4 person hot tub on deck. Next day, vessel deboards by 11am back at Sitka Harbor.
3-4 night packages will extend to Salisbury Sound. We will wind our way through a myriad of islands into Olga and Neva Straits and anchor for the evening in protected coves on the northern shore of Kruzof Island like Sukoi Inlet and Kalinin Bay. Hiking Sea Lion Cove Trail is a moderately difficult trail that traverses a variety of Alaska's diverse ecosystems of grassy meadow, beautiful old growth forest, lake and muskeg, before emerging onto a two-mile long sandy beach at the edge of the Gulf of Alaska. The meadow attracts Brown Bears and Bald Eagles and is a great place to spend time beach combing, bird watching and taking photos. Fishing is excellent in this area as well if you want to drop a line.